Bitumen 115/15
Our bitumen 115/15 is oxidized grade of bitumen with softening point between 110 to 120 centigrade and penetration between 10 to 20 0. millimeter.It is categorizing in oxidized bitumen also known as blown bitumen, is a type of bitumen that has been air-blown or chemically treated to make it more viscous and less volatile.
Oxidized bitumen
This process of oxidation increases the molecular weight and softening point of the bitumen, making it more resistant to temperature changes, water, and UV rays. Oxidized bitumen is commonly use in a variety of industrial applications, such as roofing, insulation, and waterproofing, as well as in the manufacturing of paints, varnishes, and adhesives. The degree of oxidation can be controlled to produce different grades of oxidize bitumen, each with different physical and chemical properties suitable for specific applications.
Quality of bitumen 115/15
We are exporting premium quality of bitumen 115/15 and removing the solvent and light material from the bitumen and remain the high carbon content material. We add catalyzer to bitumen tower and speed up the production with less oxidization and high polymerization. So we deliver bitumen to customer with more useful material and keep molecular boundary.
This is happen in continues production and close adiabatic media. So we will have less lost and higher quality and price is less compare other way. Our investment for this machinery is 10 times higher than second grade. We have fast delivery and good price.
Price of bitumen 115/15
Price of premium grade is approx. equal to 30% higher than price of fuel oil and depend on packing and customer requirement fluctuating.
Packing of bitumen 115/15
Size of packing should be small since it is hard bitumen too difficultly to melt it in big size and normally supplying in 25 kg.
Available packing is:
25kg carton box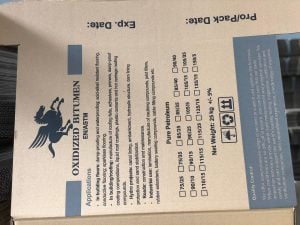 It is packing on the pallet and 22.8 tons load in 20ft container and must be stuffed on the pallet otherwise the cartons will torn. Inside of carton is none-stickable sheet and should be removed before melting.
The other packing in the cartons is plastic bag and after you take from carton can directly put it in your melting pot.
25kg PP bag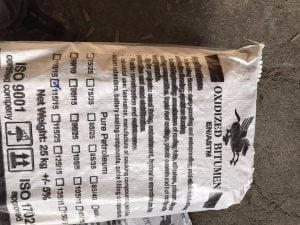 It is possible to load on pallet or shipping lose packing. While it is on pallet 20 tons can load and while it is lose packing can load 22 tons per 20ft. Inside of this PP bag could be plastic bag with direct use or craft bag with none stickable sheet.
25kg mold packing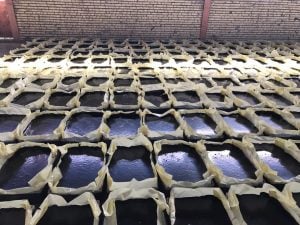 It is most expensive packing since there is mold on and with same mold we can ship out. The mold is carton and at destination you can remove the mold easily.
25Kg Polyamide bag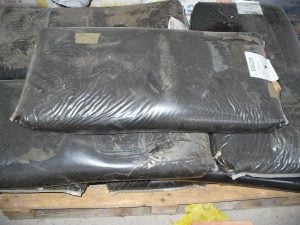 It is heat resistance bag and filling directly in water to cool down fast. It is firstly use not possible to take out the Polyamide from the bitumen and then use.
25kg craft bag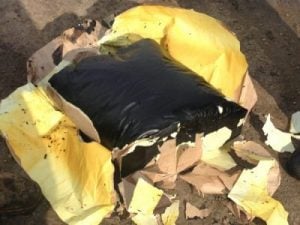 Craft bag is recycle packing and inside is special material to prevent sticking the bitumen to bag. This grade also possible to load on pallet or without pallet for customer.
Bitumen 115/15 in drum packing.
Do not recommend put we have possibility to pack it in drum as well.
Delivery time of bitumen 115/15
Our production line able to produce 200 tons daily but depend on desire packing our export capacity will change. Bitumen 115/15 is too hot and at 190 centigrade discharging to packing and then 1 days take time to cool down then we can palletize and export it.
Usage of bitumen 115/15
This hard grade of Bitumen mostly using in pipe coating material,paint,ink and waterproofing and shingle factories. High thermal properties and viscosity plus boundary with other material is main specification of this bitumen.
Sample of bitumen 115/15
Sample of Bitumen 115/15 is available freely for your evaluation and just need to book it via your own courier. It is not DG or flammable and ship it as normal cargo. After sample confirm we will consider the courier charges as discount of cargo to our customer.
How order bitumen 115/15
To order bitumen 115/15 we need to know
Order quantity
Destination
Packing
Your desire Payment term
Why we are No. 1 exporter of bitumen 115/15?
On time delivery
Reasonable price
Guaranty quality and inspection before shipment Manufacturer of bitumen 115/15 in various packing and marking. We are doing OEM for customer and fill in customer design packing.
Banking facility.
Office near our customer in Turkey,Hong Kong, Dubai,Montreal, Beijing and Kulalampour.
Specification of bitumen 115/15
| | | |
| --- | --- | --- |
| BITUMEN 115/15 | SPECIFICATION | TEST METHOD ASTM/EN13304 |
| SPECIFIC GRAVITY @ 25/25 CG | 1.06 | D-70 |
| PENETRATION @ 25 C | 10 to 20 | D-5 |
| SOFTENING POINT C | 110 to 120 | D-36 |
| LOSS ON HEATING(WT) % | 0.1 | D-6 |
| FLASH POINT C | 340 | D-92 |
| SOLUBILITY IS CS2(WT) % | 99.5 | D-4 |
| DUCTILITY @ 25 °C | 1.9 | 1.5 CM MIN |
| SATURATES (ASTM D2007) | 6% | D2007 |
| ASPHALTENES (IP 143) | 37% | IP 143 |
| RESINS | 28% | D2007 |
| AROMATICS | 30% | D2007 |
What is oxidized bitumen 75/25
Blown 75/25 (also known as blown bitumen 25/75, oxidize asphalt 75/25) is a semi-solid grade of pure petroleum bitumen produce by blowing bitumen 60/70 into an asphalt flux with very hot air. will be
The numbers 25/75 specifically correspond to the midpoint of material ventilation and penetration. Centigrade ventilation by ring and ball still in air is rate by ASTM D36. The input value is 1/10, which is not fully cover by IP49 or ASTM D5.
 Uses of 75/25 oxidized bitumen
The oxidized bitumen 75/25 is use as raw material for bitumen coating, roofing, insulation and bitumen membrane sheet insulation.
Asphalt 75/25 in Artifacts, Fuels, Paints, Finishes, Stains, Paper Sheets, Material Handling, Road Construction. Paving, breaking seals and repairs, general works, materials, construction. Stabilization and protection of structures, cement, construction additives, dust limiters, coating, protection and specialist impregnation, manufacturing of elastic and plastic items.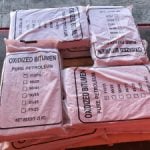 75/25 blown asphalt items are for paving, roofing. In addition, it is using in asphalt paints for corrosion protection metals, in the coating of general structures, bonding in electrical coatings, the bases of engineer grasses.
Typical for oxidized asphalt 75/25 includes materials, pipe coating, Portland concrete asphalt, water lye applications, paint making.
Product usage guide
Asphalt 25/75 heat to twice the temperature against the ventilation point to allow flow and thickness. To use asphalt 75/25, surfaces must be dry, sound and free of loose particles, mold, relief items, irregularities, grout, etc.
Advantages of blown asphalt 75/25
Durability
flexibility
Waterproof
Chemical stability
Packing and transportation of oxidized bitumen 75/25
we Supply bitumen 75/25 in 25kg fusible bags, 50kg fusible bags, 25kg craft bags, 50kg craft bags, 25kg cartons.
And we can supply it in 20 feet, 22.8MT bulk or pallet.
If you are looking for drum packaging, it is possible in 185 kg net and 220 kg drum.
What is oxidized bitumen 85/25?
The bitumen grade 85/25 means that its softening point is 85 degrees Celsius and penetration is 25 decimeters, oxidize bitumen 85/25 is softer than other grades produce according to ASTM standard.
Oxidized Bitumen 25/85 is a semi-solid blown grade of pure petroleum bitumen classify as a polycyclic aromatic hydrocarbon commonly use for various purposes in the construction trade.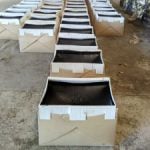 We produce oxidized bitumen 85/25 by blowing hot air into the vacuum floor and breaking up the hydrocarbon molecules at temperatures between 270 and 300 degrees Celsius. Oxidized bitumen 85/25 is base on petroleum bitumen, which is made by blowing 60/70 bitumen. With very hot weather, this product use in the industrial sector exhibits predominantly "solid" characteristics at ambient temperature and when use hot and allow to cool, provides superior adhesion and waterproofing qualities over oxidized bitumen. Gives.
Using oxidized bitumen 85/25
This grade of our oxidized bitumen is use in most related industries, some of which are: Varnish, Bituminous Coating, Waterproofing Membrane, Bituminous Roofing Felt, Asphalt Sheet, Asphalt Paint, Insulation and Insulation Industries, Coating Metal and pipe, all waterproofing applications, road construction, asphalt coating, use in automotive or automotive industries to cover most parts of cars, for acoustic coatings and many other industrial and chemical materials.
Advantages of bitumen 85/25
Durability
flexibility
Waterproof
Chemical stability
How to use oxidized bitumen 85/25
As you know, blown bitumen 85/25 has a solid state and must be melt to be use, so it must be heated to 170 degrees Celsius to be used for all purposes in suitable industries.
Oxidized Bitumen 85/25 Formulation
Elementally, it contains from 90% carbon and around 7% hydrogen, and other chemical contents are up to 1% sulfur, 1% nitrogen, 1% oxygen, and 2000ppm metals.
Bitumen Products are compose mainly of highly condense polycyclic aromatic hydrocarbons.
Product packaging and details
We manufacture blown asphalt in various packages including kraft bag, fusible plastic bag, drum and bulk from penetration grade bitumen which is blown by hot air in a control process to achieve the desire specifications.
What is oxidized bitumen 90/40?
Bitumen 90/40 (also known as blown asphalt 90/40 and blown bitumen 90/40) is a semi-solid grade of pure petroleum bitumen produce by blowing air through an asphaltic flux. Its special physical properties can be used in various applications in the construction trade.
It is a very special grade of blowing bitumen because its softening point is 90°C, but normally it should be in 40, when the softening point is 90°C, it will be around 20, and only factories that have good skill and skill. They have experience in bitumen production and have good facilities to produce 90/40 blown bitumen.
Application of blown bitumen 90/40
This type of bitumen is suitable for use in chemicals, raw materials for bitumen coating, paper and cardboard, textile processing, paving stones, sealing and repairs, civil works, bitumen coating of pipelines, roofing, construction industries. Building sealing and insulation, glue, construction material additive, road construction, dust, insulation and impregnation, insulating bitumen membrane sheet, making rubber and plastic products.
Typical applications of 90/40 bitumen include roofing, pipe lining, hydraulic applications, 90/40 is mainly use in paint and coating production in hot areas.
Advantages of blown bitumen 90/40
Durability
flexibility
Waterproof
Chemical stability
How to use bitumen 90/40
Like other grades of bitumen or bitumen, it is heating to 180 degrees Celsius before use and then melt and can be used for various industries.
What is oxidized bitumen 95/25?
Bitumen 25/95 is produce by blowing bitumen.
95/25 has a softening point of 95 and its penetration degree is 25, which is done at high temperatures, and as a result, a material with a much higher permeability is obtain. The title oxidized bitumen 25/95 refers to the midpoint of the acceptance criteria for the softening point. The numbers refer to the midpoint of the material's softening and penetration points, respectively.
This type of bitumen is suitable for moderate to hot weather and in these weather conditions it can play a good role in road construction.
Technical properties of the product
Blown bitumen 95/25 is known with two properties of softening point and needle penetration, which are 95 degrees Celsius and 25 decimeters, respectively. In addition, it has advantages such as durability, flexibility, water resistance and greater chemical stability.
Using oxidized bitumen 95/25
Bitumen 95/25 (or blown bitumen 95/25) is use in many industrial applications and operations. Due to the special characteristics that it acquires during the oxidation process, it has more rubber properties than other grades.
It is using in the production of special colors, construction, construction and road construction, roofing, covering, flooring, as a component of anti-slip layer, underground sealant in cars in the automotive industry, in the piling industry, electrical operations. .
For cable coating, oil and gas pipeline coating, crack sealing, in road repair operations, for the production of pulp paper, bitumen products and textiles, as a joint filler compound and noise reduction agent, for dustproofing, waterproofing, construction Roof felt, varnish, varnish are use.
It is also using as a raw material for the production of adhesives, insulation materials, bitumen membrane insulation sheets, in the chemical industry, for the production of special bitumen-base paints and pigments to protect metal structures against corrosion, and in applications and additive hydraulic operations in Portland cement pavement as It is use as a base for artificial grass and for the production of rubber and plastic.
 Storage and handling 95/25 bitumen oxidized
Oxidized bitumen 95/25 has a validity of 10 years with heating and cooling several times.
Oxidized bitumen packing 95/25
95/25 has various packages. Cardboard, palletized cartons that can be packed with nylon shrink, polyamide and polyester bags are use to pack this dry bitumen.