What is Glycerin?
Glycerin known as glycerol, is a colorless, odorless, and sweet-tasting liquid. It is a type of alcohol with three hydroxyl (OH) groups. Glycerin is a naturally occurring compound found in various plant and animal fats. It can also be synthesized through chemical processes.
It has numerous applications in various industries due to its properties. Some common uses of glycerin include:
Personal Care Products
Glycerin is often used in skincare products, soaps, and cosmetics due to its moisturizing and hydrating properties. It helps to retain moisture in the skin, making it smooth and soft.
Food and Beverage
Glycerin is sometimes use as a food additive, primarily as a sweetener or humectant. It can enhance the texture and shelf life of certain foods and beverages. It is also commonly found in bake goods, dairy products, and confectionery.
Pharmaceutical and Medical Applications
It is using in the pharmaceutical industry as a solvent, preservative, and lubricant in various medications and topical preparations. It is also using in the production of suppositories and cough syrups.
Industrial Applications
Glycerin has applications in industries such as cosmetics, textiles, paints, and printing similar to liquid paraffin. It is using as a solvent, lubricant, and humectant in these applications.
E-liquids and Vaping
Glycerin is one of the main components in e-liquids used for electronic cigarettes and vaping devices. It provides the base for vapor production.
Glycerol or glycerine or glycerin is a colorless, odorless, viscous liquid that is sweet-tasting and non-toxic.
Physical properties of glycerine
Glycerine is a water-soluble, clear, colorless and odorless, sweet-tasting and viscous liquid with a high boiling point.
Chemical properties
Glycerine is a trihydric alcohol capable of being reacted yet stable under most conditions. Because of these unusual properties, its good compatibility with numerous other substances and the ease of processing it, glycerine is use in many areas.
Pharmaceutical formulations
Glycerine is a sugar alcohol and the simplest trihydric alcohol, a triol . The glycerol backbone is found in many lipids which are known as glycerides. Glycerine is a by-product of saponified, hydrolyzed or transesterified fats and oils . It is widely use as a sweetener in the food industry and as a humectant in pharmaceutical formulations. Glycerol has three hydroxyl groups that are responsible for its solubility in water and its hygroscopic nature.
Packing of Glycerin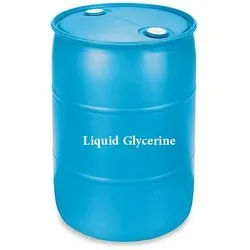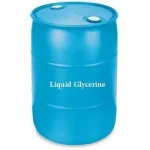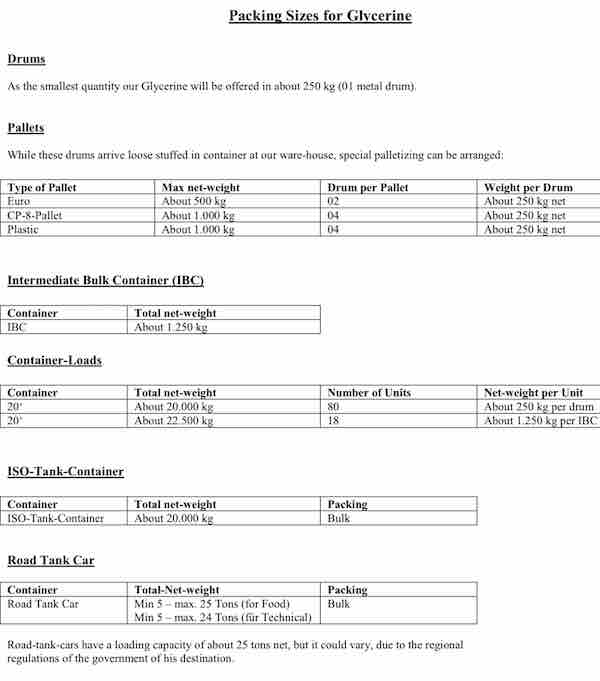 Specification of Glycerin
Glycerin is use in industries like paints , resin , army.
To avoid freezing of Hydrolic jacks and oiling the instruments is being use vastly.
| | | |
| --- | --- | --- |
| PARAMETERS | SPECIFICATION | METHODS |
| GLYCEROL CONTENT , %WT | 98  MIN | USP 38 |
| MOISTURE  CONTENT , %WT | 1  MAX | KARL FISCHER COULOMETER |
| SPECIFIC GRAVITY , 25/25 °C | 1.2500  MIN | SPECIFY GRAVITY METERS |
| COLOR , APHA | 10  MAX | AOCS  Ea  9-65 |
| RESIDUE ON IGNITION , %WT | 0.01  MAX | USP 38 |
| CHLORIDE , ppm C1 | 30  MAX | USP 38 |
| SULPHATE , ppm SO4 | 20  MAX | USP 38 |
| HEAVY METALS , ppm Pb | 5  MAX | USP 38 |
| CHLORINATED  COMPOUNDS , ppm C1 | 30 MAX | USP 38 |
| FATTY ACID & ESTERS , m1 OF 0.5 N NaOH/50 g | 2.0  MAX | USP 38 |
| DIETHYLEN GLYCOL AND RELATED COMPOUNDS , %WT | 1.0  MAX | USP 38 |
| ORGANIC VOLATILE IMPURITIES , %WT | – |                           USP 38 |
| INFRARED  ABSORPTION | DETECTABLE | SPECTROFOTOMETER  IR |
Glycerin 99-99.2% is vastly used in hair and skin protection products , in soaps also in perfume as essence and in detergents . also it is used in pastes , face and hand creams .
Cosmetic grade  glycerin
PARAMETERS

SPECIFICATION

METHODS

GLYCEROL CONTENT , %WT

99.2  MIN

USP 38

MOISTURE  CONTENT , %WT

0.6  MAX

KARL FISCHER COULOMETER

SPECIFIC GRAVITY , 25/25 °C

1.2600  MIN

SPECIFY GRAVITY METERS

COLOR , APHA

10  MAX

AOCS  Ea  9-65

RESIDUE ON IGNITION , %WT

0.01  MAX

USP 38

CHLORIDE , ppm C1

10  MAX

USP 38

SULPHATE , ppm SO4

20  MAX

USP 38

HEAVY METALS , ppm Pb

5  MAX

USP 38

CHLORINATED  COMPOUNDS , ppm C1

30 MAX

USP 38

FATTY ACID & ESTERS , m1 OF 0.5 N NaOH/50 g

1.0 MAX

USP 38

DIETHYLEN GLYCOL AND RELATEDCOMPOUNDS , %WT

0.1 MAX

USP 38

ORGANIC VOLATILE IMPURITIES , %WT

–

USP 38

INFRARED  ABSORPTION

DETECTABLE

SPECTROFOTOMETER  IR

 
Glycerin (Food Grade)
Glycerine 99-99.5% is used in foods and drinks for making It sweet , it is sweet and help the food to become expired lated , It is in Carbohydrate group
| | | |
| --- | --- | --- |
| PARAMETERS | SPECIFICATION | METHODS |
| GLYCEROL CONTENT , %WT | 99.5  MIN | USP 38 |
| MOISTURE  CONTENT , %WT | 0.5  MAX | KARL FISCHER COULOMETER |
| SPECIFIC GRAVITY , 25/25 °C | 1.2606  MIN | SPECIFY GRAVITY METERS |
| COLOR , APHA | 10  MAX | AOCS  Ea  9-65 |
| RESIDUE ON IGNITION , %WT | 0.01  MAX | USP 38 |
| CHLORIDE , ppm C1 | 10  MAX | USP 38 |
| SULPHATE , ppm SO4 | 20  MAX | USP 38 |
| HEAVY METALS , ppm Pb | 5  MAX | USP 38 |
| CHLORINATED  COMPOUNDS , ppm C1 | 30 MAX | USP 38 |
| FATTY ACID & ESTERS , m1 OF 0.5 N NaOH/50 g | 1.0 MAX | USP 38 |
| DIETHYLEN GLYCOL AND RELATEDCOMPOUNDS , %WT | 0.1 MAX | USP 38 |
| ORGANIC VOLATILE IMPURITIES , %WT | – | USP 38 |
| INFRARED  ABSORPTION | DETECTABLE | SPECTROFOTOMETER  IR |